Archive for 'Austin Maternity'

I met Jackie about a year ago at Barb's amazing workshop and learned that Jackie lived just down the road from me (which is rare because I'm in the boonies!!!). Love Jackie's work, too!! So glad she was willing to come out for some underwater play before her sweet baby girl was born! (One on dry land HERE and my personal underwater fav HERE.)
Speaking of workshops, did you see my announcement on Facebook? I'm considering starting professional photographer workshops back in 2013!! I'm incredibly excited about the potential plans (which may include me traveling for the first time–eeep!). To make sure you're among the first to know the details, fill out the "let me know" link on THIS page!

Our photo sessions are always fun, always colorful, always an adventure and I'm going to tell on myself here…they're always easy. They just seem to flow naturally…very organic and not forced and that's what makes it so easy…even when it's 150 degrees outside…even when someone is having a crying fit, it's still easy because they both embrace parenthood with a GREAT sense of humor and a relaxed nature. I am pleased to say that I learned a new word at this session:
hangry
adj. han·gri·er, han·gri·est
1. Feeling or showing anger as caused by extreme  hunger. "We got very hangry when we had to skip breakfast to get up so early for this photoshoot."
Love it!! So looking forward to capturing the birth of baby brother hanging out there. Could be any day now!!!

Sarah's patience in the days leading up to the much anticipated birth of her second daughter floored me. I can't say I've ever been the most patient person in the world…especially when it comes to expecting a baby, but each time I would speak with Sarah as the days ticked by past her due date, she sounded so calm, so "let it be," exactly how a mommy should be–the baby will get here when she gets here…no need to rush it.
Sarah called me at about 5 p.m. and I have to giggle remember what she said, "Yeah, I think my water broke!" I could definitely hear the excitement in her voice this time and it was contagious! I have to admit I was a little hesitant to accept this birth session because it was in Ft. Hood and I was extremely nervous about missing the birth due to the drive. Sarah was very convincing early on

, but I was still ready to bounce out the door after that phone call. But I waited. And I waited. And I waited. When should I leave????
Finally, I got another call letting me know that progress was being made and so I ventured out into the dark headed toward Ft. Hood.
Sarah was handling the contractions so well when I got there (I guess it was around 10 or 11 p.m. at this point). We all hung out in her room together, chatting and giggling and watching the Olympics. I was so incredibly relieved that I made it there in time and the guards actually gave me clearance to get on base, LOL. At around 2 a.m., things were still moving along, but everyone decided to try to catch a couple hours of sleep before the real "go time." I have never done this before, but all of us–Sarah, her hubby, her mom, and myself–all curled up in the hospital room right then and there and dozed off to the soothing sound of baby girl's heartbeat. I did  have to snap a few pictures before we drifted off because it was SOOOOOOOOO beautiful and peaceful…that time before your whole world changes and it's those last few hours of knowing that baby is still inside you. I don't know how any of us slept, but somehow we did and when the lights came on in the room at 4 a.m., we were all pretty rested and ready to meet this little girl.

She was SO alert! Look at her looking at her daddy!!!

And then it was time for the sisters to meet…

I will admit I was pretty tired driving home that morning from Killeen, but I was also completely elated over witnessing the first few moments together of this little family. The sunrise that morning was glorious. I was going to keep driving by, but I forced myself to pull over and take a few pics…this was the sunrise on the morning she was born. No one will ever be just like her and the sunrise will never look just like this again.
Sarah…thank you much for letting me be there to document V's birth for you. You are one incredible mommy and I'm so happy that you and your girls are finally together!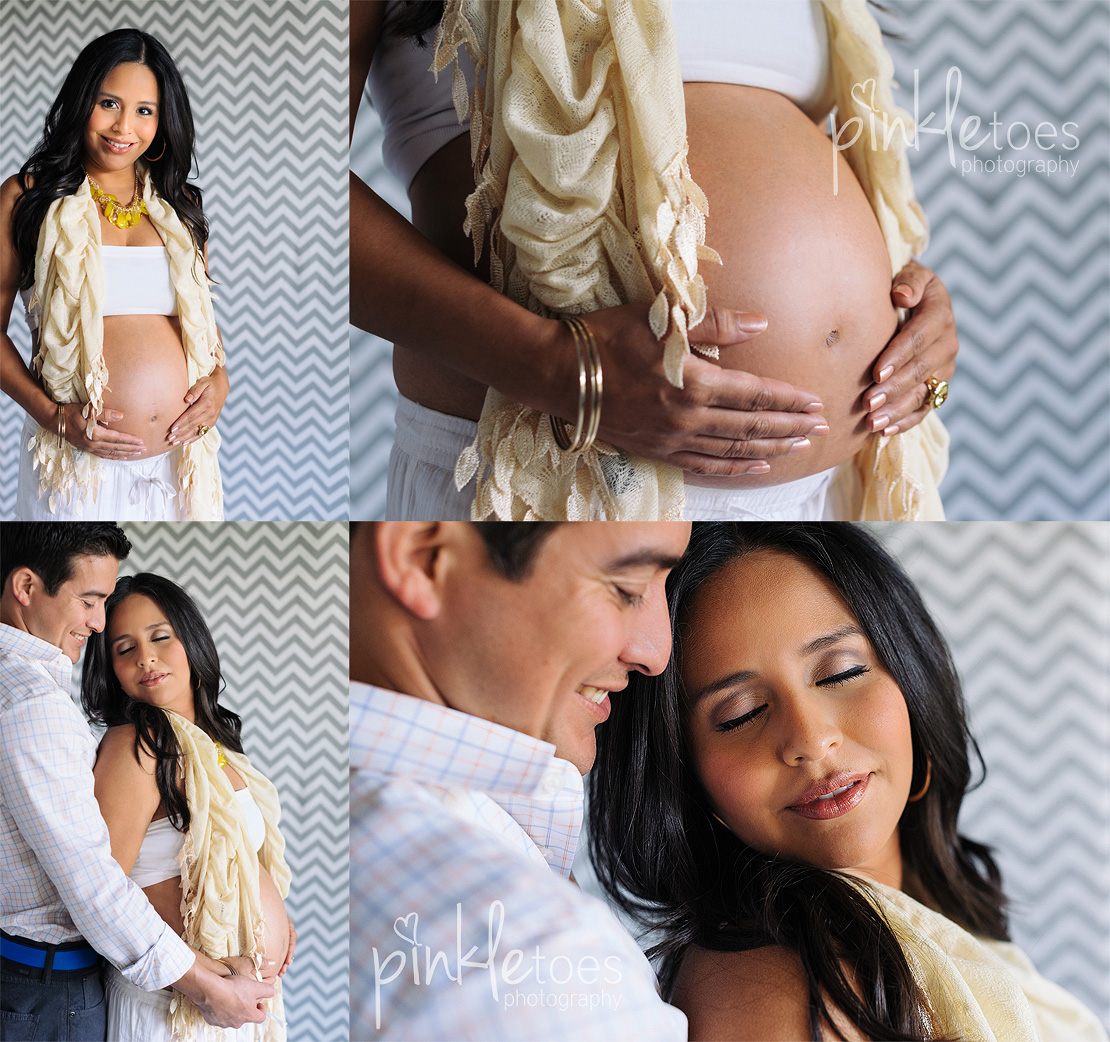 We started out inside…

…on dry land. And these two (three) are beautiful. So beautiful together. But the real fun came when we took it underwater…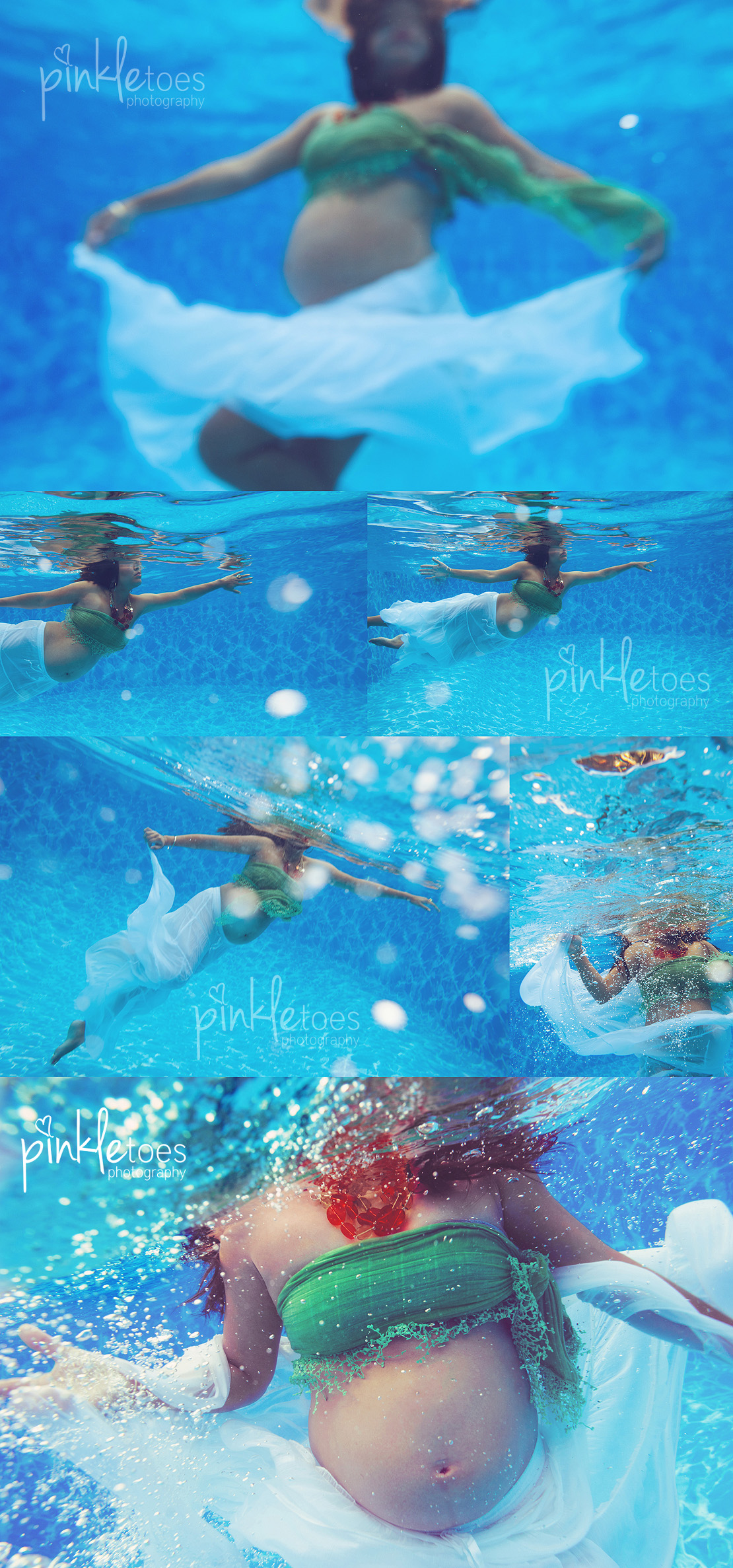 Underwater photography is extremely challenging, but I LOVE the freedom of creation it allows…unusual compostions and happy mistakes. I definitely look forward to more underwater shoots…clients if you have session coming up with me in the next few weeks (well…except newborns

or if you're thinking about booking one for next summer, consider some underwater work…especially if you have a pool (or access to one). We could do something very cool and unusual for you!!!
G & K…it was SO great to see you guys again and I am just thrilled for you guys. Can't wait to meet baby brother this fall!

I feel like this family is my family. We've been working together since before big sis was even born. I remember each session vividly. Baby sister's newborn session, however, has been my fav so far. It was so relaxed. Mom and dad have settled into parenthood so gracefully…with so much love. It just radiates in this family. It's obvious that mom and dad have been wonderful role models because big sis completely adores her little sister. (My personal fav from this newborn session is HERE).
Very soon after our photo session, big sis got very, very sick.  It broke my heart to read about her hospital stay…thinking about how her mommy must have felt caring for a newborn and worrying so much for her eldest daughter…thinking about how her daddy had to stay by her side in the hospital and keep everything together for his family. She is fully recovered now and they are finally all back together under one roof. I hope I know they are all very much cherishing their time together right now.
I never got a chance to blog their maternity session…a time before they even knew they were having another little girl (I envy families that can keep it a surprise until birth). Oh, this morning was soooooooo hot and muggy, but I'll take that beautiful light any day…

(My personal fav from their maternity session is HERE.)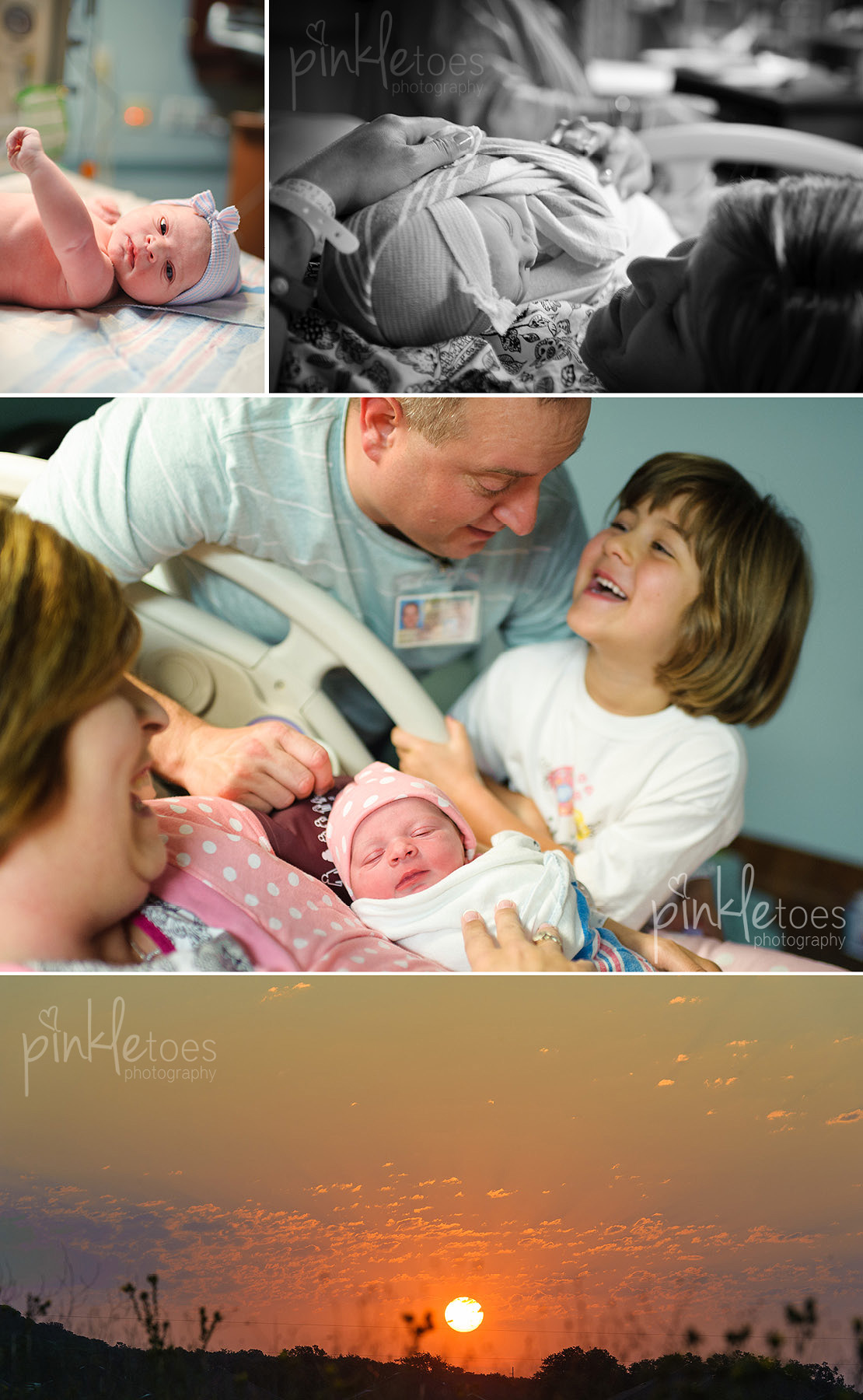 …the birth of a beautiful baby girl was marked by an almost-equally-as-beautiful sunrise. Congratulations to the four of you! Couldn't have planned a better way to spend last night than watching this little girl make her much anticipated debut. [Another one HERE and HERE.]

Goodness gracious, these two are going to have a BEAUTIFUL baby! I mean, look at Miss "Angelina Jolie's" eyes and lips for goodness sake? The thing that really struck me about their maternity session was how connected and in love these two were. Everywhere we walked, they were hand in hand. Sometimes I felt like I was peering in on their private little world. Thank you two for letting me peer in and I just can't wait to meet this little baby of yours!
Side note #1 (for photogs): While I actually do about 95% of my photo processing in Lightroom (thanks to Photography Concentrate's amazing tutorials…they're having a sale, btw), lately, I've been loving my friend Leah Cook's Matte Black and White action. Thought it would be fun to see this post in color and in Matte Black and White:

It's so cool how her eyes pop both in color and in black and white!
 Side note #2: Literally just a handful of openings left for the Back-to-School mini sessions.
Side note #3: My friend Leah, whom I mentioned above, is single-handedly responsible for convincing me to give in to my latest obsession that is Instagram. If you've follow me  (pinkletoesoriginal), you will see that I've been getting a bit experimental with my newfound art medium. I've got a little something special in the works that I will introduce soon…I'm quite excited about this new project. At any rate, thanks, Leah, for giving me something else to do with my "spare" time

.
Side note #4: I didn't show you my favorite image from this session up there

.

Underwater photography absolutely fascinates me and I've been trying to experiment more with it. It is NOT easy, that is for sure, and I can't say that I'm very good at it at this point. I did find I was much better w/ my iPhone (the last three shots were taken with the iPhone), but one "turns-out-it's-not-so-waterproof case" and a brand new iPhone later, I've given up on aquatic iPhonography for now. I am going to keep trying with my big girl camera, however. I love how this recent boudoir image turned out and I believe I have a willing maternity model coming up soon. Wish us luck!

And by "toasty," I mean we were working in the triple digits. But bless the three (four?) of them…they gave their hearts for their photo session and even put up with my indecisive parking error

(gotta love Austin and her random middle-of-the-week-blow-out-concerts). I was *very* tempted to jump into that fountain myself, by the way.
Little man's smile was totally contagious while I was editing this session and it really made me even more excited to meet that little girl still cooking away. I think she's going to be pretty happy to find she has two amazing parents and a super-loving big brother all ready to welcome her.
On the subject of newborn photography, in case you missed it, photogs, my
feature in Pix Magazine
came out this week. What a cool publication and it's FREE!
P.S. Be sure to see my personal favorite image from this session not shown here, but
HERE

Night night!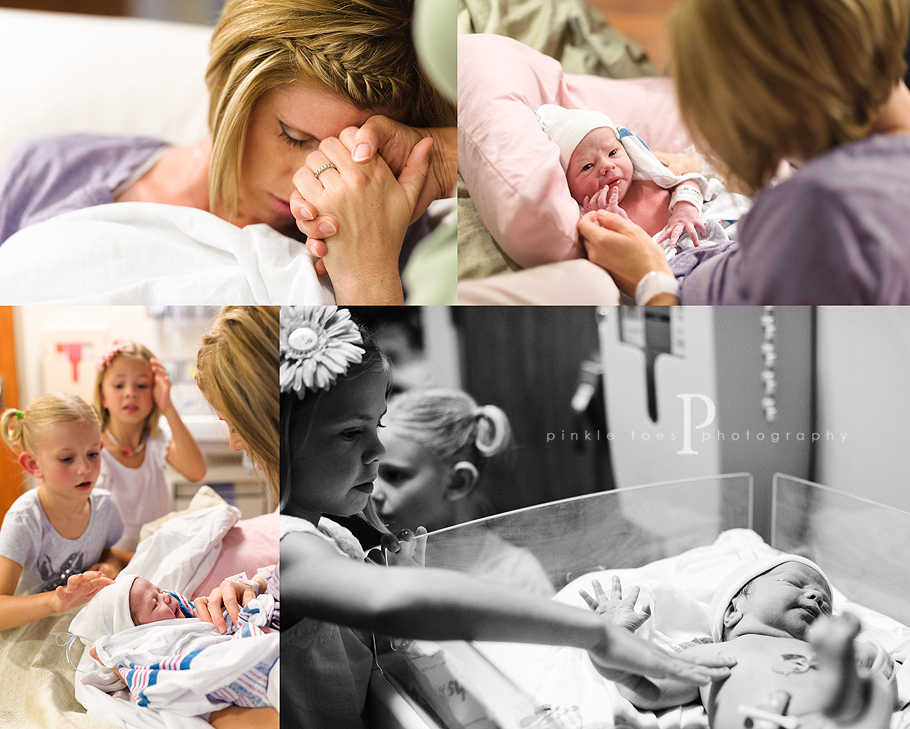 He was speedy. He was substantial. He was adorable! Congrats to his mama for being a birth champ today!