I had the pleasure of seeing the beautiful state of Washington this summer. I loved my first morning there, shopping an AMAZING farmer's market in Olympia with our awesome hostess Casey with Phreckle Face Photography (and be sure to visit her website because it is REALLY cute!).  I mean, we have have farmer's markets in Austin, but it's nothing like this. The air was so fresh and cool. The smells of flowers and berries and hand-crafted soaps was intoxicating. We may or may not have spent nearly half of our food budget for the workshop there (which may or may not have resulted in two Thai meals that weekend with minimal complaining), but oh, it was worth it.
Our fabulous attendees arrived later that afternoon and after going over the traditional workshop business stuff, we played outside along the beautiful bay practicing finding light and embracing sunshine. We were up early the next morning to photograph a *very* expressive newborn baby girl who had us all entranced with her adorable whole body smiles:

Later that evening, we had the incredible opportunity to photograph the family who owned the STUNNING Lighthouse Bungalow that housed us (pics of the house below). This session was such magic…it was all things boy and beach and energy and light and sparkle and love:

Our final morning together, we were up at the crack of dawn to hone our photography skills and try out new techniques with our oh-so-fun maternity couple along the docks (continuing the nautical theme that sort of naturally developed during our stay here):

LOVED playing with that perfect mirror-like reflection that greeted us in the water that morning!
And here's some house decor eye candy for ya: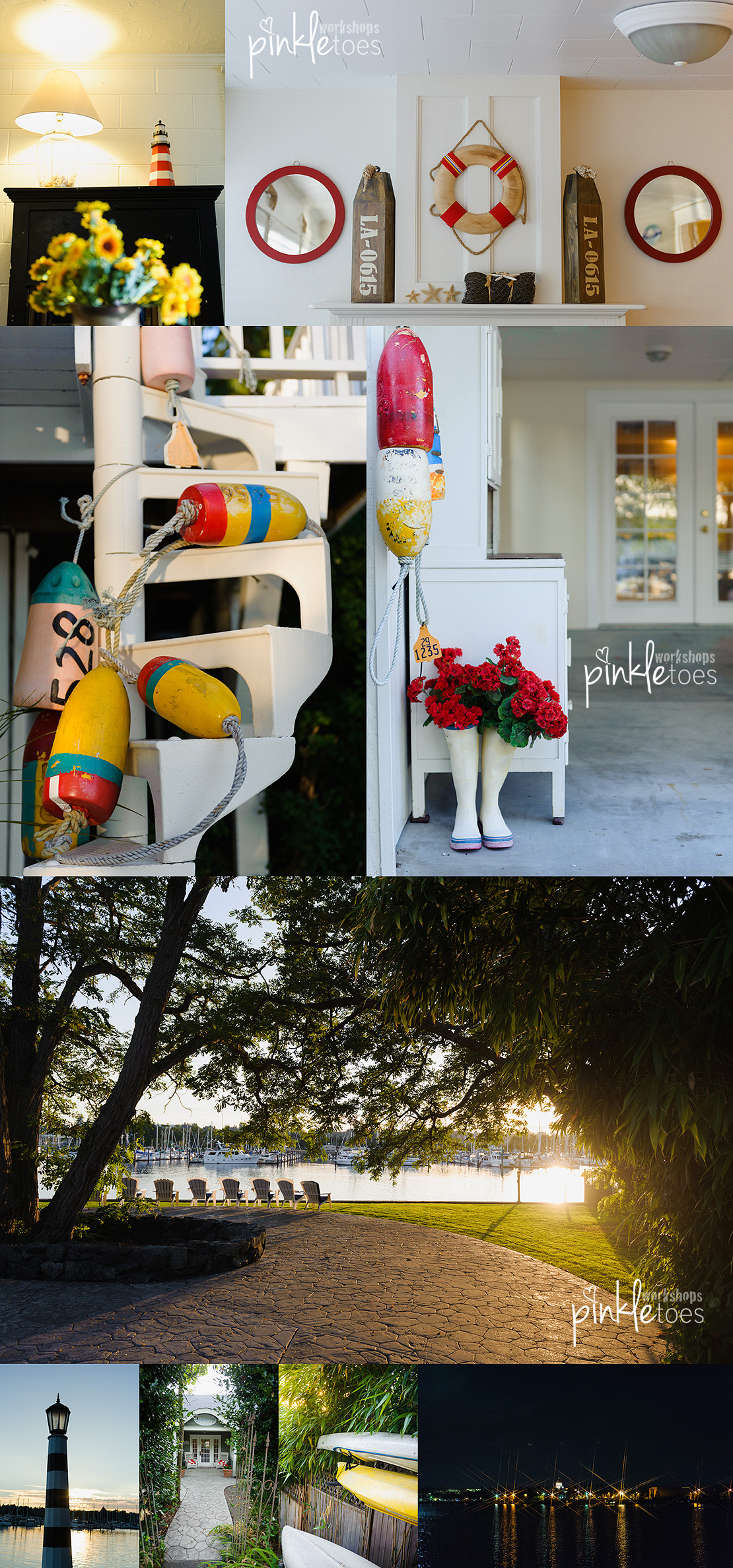 We had such lovely evenings out there, overlooking the Capitol building, watching the drastic changes in the tide, sipping drinks, watching the sunset, discussing all things photography. What an amazing group of ladies and a fantastic way to end our 21 day journey workshopping up the west coast (click to read part 1 and part 2; my personal pics from the trip will come…eventually).
And be sure to follow the next link in our blog circle to see another perspective on this photography workshop: the beautiful and talented Carrie with Yi Li Photography, Seattle Family Lifestyle Photographer. I can't wait to check all the posts out myself! I have purposely not looked until now!
Meanwhile, I wanted to let you know that we do not have any more workshops coming up in the states this year or next at this time. However, we are gearing up to head all the way down under to Sydney, Australia sometime late in 2015. If you would like to be notified if that changes or if you want to get information on the Australia workshops when they are available, please drop a line.